Spring and Easter - Merrywood Manor
Spring and Easter - Merrywood Manor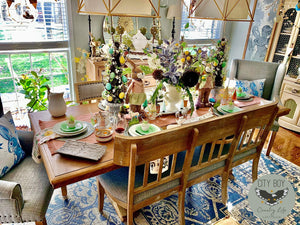 Here at City Boy Country Life we love to transition our home for the seasons.  Sometimes this translates around a holiday, sometimes the season change and sometimes just a design element.
Transitioning from Winter to Spring and to include Easter is one of my favorite times to refresh, redo, redecorate and revitalize our living space.  Going from grey and white and steel blue to more vibrant punches of green and yellow, pink and blue is a welcomed change of pace and mood.
Like our other holiday and seasonal decor, I try my best to group like items to pack a punch and give more of a collection feel rather than a scattered feel.  I think the best thing to first determine are the areas and surfaces you would like to fully transition seasonally, those that will just get a sprinkling of change and those that will stay consistent throughout the year.
At this point, with such a large collection for each transition throughout the year, most surfaces get a full transition.  But knowing what to keep group together and having a cohesive style or feel throughout the house allows for easy movement from room to room.
We will start with the dining room, which normally makes the biggest impact as I transition the tablescape, the buffet and other bench and table surfaces.  The easiest, but most time-consuming, starting point for me is to REMOVE EVERYTHING from the surfaces I want to transition.  Everything comes off the table and buffet and other surfaces, get a good wipe down and then I start from scratch layering color, texture and materials to create the desired look.  
This vintage window table was actually the jumping off point for our vintage window greenhouse.  These Park Hill lanterns provide texture, dimension and height.  The gorgeous drink dispenser was an anniversary gift from my parents this year, complimented with gold-rimmed highball glasses that is screaming for a Spring Sangria.  Florals bring life to any area in your home and it just so happens that these are high-end real-feel tulips and allium stems that won't require changing and will last all season long.
The buffet is a little more understated, with vintage ironstone tureens, brass fox and rabbit holders and a garland that runs the length of the buffet, tucked towards the back.  The base of the garland features vintage book page stems, and accented with faux fern, yellow floral and star picks.  Again, it is all about layers and the fun of gathering materials to create an unique but impactful display.
This antiqued wood and iron bench sits on the closest end wall of the dining room.  This GORGEOUS vintage lamp was a gift and I am in LOVE with the look.  Mixed with moss baskets, only used in Spring decor the goal is create both a balance but whimsical look.  One basket holds a vintage silver tea set filled with green moss and antiqued robins eggs and a mix of dried grassed and feathers from the Merrywood turkeys and our chickens.  
This guy under glass is one of my prized possessions.  So much so, he never gets packed away.  This bunny is actually a decanter, it is not signed but a piece I would never be able to part with.  Anything under a glass cloche seems to have a much larger impact and provides some Easter whimsy to our bar set up on the kitchen island. 
This is the entrance to our home from the front door.  This concrete urn changes with the season.  Sometimes it features a live fern or orchid arrangement, sometimes a Christmas or Winter tree and here branches that are nostalgic to me.  These branches come from the Bradford Pear trees in my parents front yard and the trees were an anniversary gift from my grandparents to my parents many years ago. The branches have been doted with a mixture of vintage german eggs and new eggs in the same color palette and a few clip-on natural grass birds nests.  The base is planted with live daffodil bulbs to add another texture and dimension.
As I say with any season, decorating and decor is a personal decision and should be a living, breathing part of your life that grows and changes as you and your family grows and changes.  I don't agree that all decor is a one-size-fits-all approach.  It needs to be personal and unique to you and if you love it, that's all that matters.  I hope you enjoy taking a look inside our home for Spring and Easter and will find some source of inspiration as you build your own lifestyle collection!
Best, 
Ryan
[This post will continue to be updated as photos are edited.]