Halloween in the Shop - - 2022
Halloween in the Shop - - 2022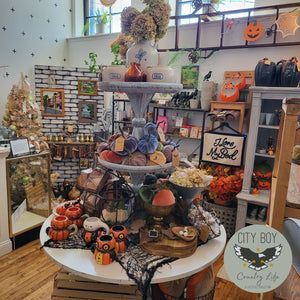 With cooler temperatures on the horizon, Fall decor and the spooky season has officially landed in our storefront and concurrently on our website!  At this point, and especially after a pandemic that included periods of shutdown and quarantine, we can all successfully shop online and I am here for it!  I can fill an Amazon cart with the best of them!  But there is something special and at this point almost nostalgic about walking into a storefront and actually experiencing what a small business owner has put in to curate a full cohesive collection.  
Here at City Boy Country Life, I take the curation process very seriously and methodically.  This takes hours of research, time combing through different brands and distributers, and working with other local small businesses, but in the end relies on the reason I started this brand, my personal style.  I push the limit sometimes and try things that are "on trend" or "in style," but in the end my personal sense of style is the glue that holds City Boy Country Life together!
So this Fall and Halloween season pulls in elements of a vintage Halloween experience, touches of traditional fall and cozy touches and some fun, eclectic offerings that I don't think you should live without.
Here is a sampling of what you can expect in the store this season!  (Oh, and don't worry...you have been asking and yes, we already have an EPIC Holiday Season planned!!)
If you can't make it into the store in person, check out our full selection on the pages of our website!
Enjoy! ~ ~ Ryan