Christmas Time is Here! - - 2022
Christmas Time is Here! - - 2022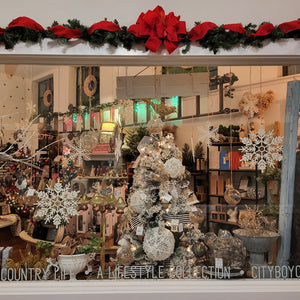 It took me almost a week, but the shop is pretty much ready for the Holiday Season and I couldn't be more excited!  Every year, as retailers and small business owners, right after Halloween, we hear the same thing, "Christmas already?!?!"  The simple answer is YES!
For those of us specializing in decor and gifts this is OUR time of year.  The time of year we look forward to.  The time of year that makes up for February through August.  The time of year that we plan an entire year for.  
This year, the shop is PACKED and there is more on the way.  I try very hard to appeal to a wide range of customers with different aesthetics, likes, wants, and needs.  No two of us are the same and I want each person that walks through our doors to feel the energy of a positive space where they feel welcome, inspired and at home.
Our front window this year is a child's (and a child at heart's) wonderland.  I have always been obsessed with elves and the movie Babes in Toyland, especially the factory scene.  While things change in the actual process of putting it together, our sneaky little elves, helping to decorate the front counter, make me smile and really compliment our "Red & White" Christmas tree and display area.  The garland around our front window is something I have made several times and always makes a HUGE statement.  
Our side window is probably one of my favorite areas of the store.  The serenity of the winter whites, mixed with soft blue hues and interesting textures brings beauty and wonderment to the "Winter White" Christmas Tree.  Looks closely for some really beautiful mushroom and botanical ornaments that are sure to add something special to any decor.
Our "Modern" Christmas Tree is one that is packed with a mix of contemporary shapes and textures and playful colors and whimsy.  My favorite pieces on this tree are the ceramic bust ornaments in several different colors as well as the stunning glitter starburst tree topper!
You can't have Christmas without a nod to the vintage and we love these vintage and vintage inspired ornaments that make up our "Vintage" Christmas Tree.  Don't forget, ALL of the picks and florals are not just chosen for interest and filler, but chosen for YOU to take home and add dimension to your own trees and areas of decoration.  The colored bell picks are some of my favorite.
Over by our faux fireplace unit is our "Traditional" Christmas tree and it just brings a feeling of nostalgia and warmth and comfort.  The tree is decked in red and green and white ornaments ranging from metal signs, to playful Scandinavian little people, to beautiful cardinal ornaments and clips, to the traditional German pickle ornaments.
Next to the checkout counter, our "Golden" Christmas Tree is a mix of stunning textures and colors and sparkles.  The iron botanical stems are really special and the beaded snowflake ornaments really dance in the light of your tree.
If you take a quick little trip into our pantry area, Christmas clearly continues.  You are first greeted by our "Shining Silver" Christmas Tree.  I love this tree!  The playful, knitted sweater garland and ornaments could easily transition into the Winter months.  But the peacock ornaments, that come in two sizes, are really spectacular.
In the altered words of 'Steel Magnolias,' our colors are Christmas and Christmas and I hope you love it as much as I have loved hand selecting each piece!
So think of us this holiday season when you are looking for beautiful, fun, and unique pieces for your holiday decor and gift giving!
Happy Holidays!
Ryan