GRAND Re-Opening - - Saturday, March 18, 2023
GRAND Re-Opening - - Saturday, March 18, 2023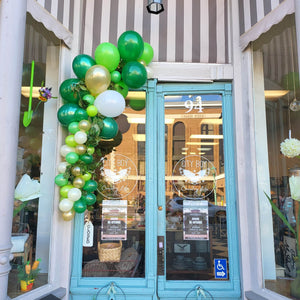 On Saturday, March 18, 2023, we opened our doors in our NEW location in Historic Downtown Clarksville at 94 Franklin Street.  We spent several weeks flipping the space that used to house HORSEFEATHERS PAINT & POTTERY STUDIO and it was quite the undertaking.
We hope you will enjoy this new space as much as we do!
I am obsessed with how the front entrance into the new space looks.  We had this vintage display case in the front window of our previous location, but it just WORKS here!  Not that you need the letters spelling out 'SPRING' to know that we are celebrating a new season, but the drama of these large moss filled letters hanging when you first walk in really elevates the space.
[We can do custom orders on these letters - - just shoot us an email for pricing cityboycountrylife.clarksville@gmail.com]
While the ceilings in our previous location were super tall, there is just something about this old building and the character of the space that really leans in to what City Boy Country Life is all about.
You'll find, when you enter the space, the shopping experience takes place along the perimeter of the space, in a circular formation with a large center shopping area to really ground the experience.
Not everyone wants to shop - - and sometimes are just drug along for the experience or for a meal, so I tried to create a couple of areas where someone can sit while other members of their party browse and shop.  
The City Boy Country Life experience wouldn't be complete without the PANTRY.  This little tucked away area was a favorite in our previous location and we wanted to do our best to replicate that in our new space.  Located to the left of the check-out area, you will find all the goodies and provisions you loved before with a ton of new additions.  The cabinetry really gives it a merchantile vibe and that is exactly the thought behind the Provisions line.
Donald Groves photography is a HUGE hit with cards, matted prints and framed pieces and the work really shines on this wall in the pantry!
I referenced earlier the center area of the store!  Here it is, all set up for Easter and Spring!  This area will constantly be changing based on the season and time of year.  We love that we were able to use two of the original paint tables from HORSEFEATHERS to create this large shopping table that is accessible from both sides.
If you know me, you know I LOVE plants and having my hands in the dirts.  We are going to be offering potted options of houseplants, herb gardens, succulents and much more in our new location.  They will all take root in found, vintage planters and vessels to add to the appeal and the story, making each piece incredibly unique.
We have already received so much positive feedback from our front windows and I love them as much as everyone else.  For my first quick go at a new set of front windows and the fact that there are two of them split by the entry doors, I think they turned out pretty well.  I can't wait to continue to fall in love with the layout and possibilities as the months push on.  
These lampshade pendant lamps have been in my collection for a long time (i still plan to use them as end table lighting in our basement renovation) and for now are the perfect dramatic statement needed for both day and night.
I would be NOTHING without the love and support of my parents in everything I do in life.  They continue to love and support my dreams as the Executive Director at the Roxy Regional Theatre and have done no differently with the dream of City Boy Country Life.  My mom was able to come to town for almost three-weeks and help move out of our previous location, flip our new storefront and get us up and running.  It is time together I will cherish!
Everybody loves Don and I am no exception.  Without him and his love and
support, non of this would be possible.  You love him on Saturdays in the store and this is only the beginning of our plans for City Boy Country Life.
So, come and shop with us and enjoy our new location at 94 Franklin Street in the heart of Historic Downtown Clarksville.  City Boy Country Life is built on the idea of finding ways to gift and reward others but also yourself.  I hope when you walk in the beautiful, historic front doors you will be enveloped by love, warm and a brief moment of zen and comfort as you browse our carefully curated collection!
Cheers!
Ryan